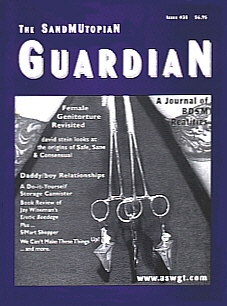 FEMALE GENITORTURE REVISITED
by Victoria Baker with Dossie Easton (This first appeared in Issue #13. Former editor Baker updates it.)
Cunt Play with Clips, Clamps, Bondage, Dildos, etc. Trust, Positions, Play Piercing and Build-up. Diagrams, Photos, Suggested Toy List

DADDY/BOY RELATIONSHIPS
by Tim G. & Lawrence Fox
What it is and how it works ... by a lifestyle pair.

SAFE, SANE & CONSENSUAL by david stein
A look at the origins of the rally slogan that became "the Rules."

EFFECTIVE CLOTHESPINS by Gillian
Transforming regular clothespins into Black grabbers!
Note: These are just a few of the articles available in this issue of The Guardian. To really appreciate this magazine you have to actually own one. Once you read it, we're sure you'll love it!
Guardian Issue #38 $6.00 per copy
Reading Room

Adam and Gillian's Sensual Whips and Toys
40 Grant Avenue Copiague NY 11726
Publishers of the SandMUtopian Guardian Magazine 1995-2000