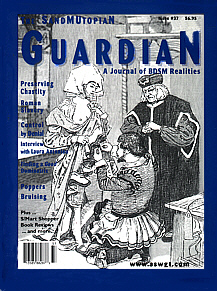 ALL WRAPPED UP by Judy and Tim
Using plastic wrap on limbs and torso.
DENIAL AS A FORM OF CONTROL by K.D. Pierre
What do you do when you don't get what you want?

SLAVERY IN ANCIENT ROME by Stephen U.
Who they were and how they lived.
HOW TO FIND A GOOD DOMINATRIX
by Mistress Matisse

Getting what you want and what you paid for.
ALSO: Laura Antoniou's New Novelogy, an interview with the author and a look at previous works in The Marketplace series.
Note: These are just a few of the articles available in this issue of The Guardian. To really appreciate this magazine you have to actually own one. Once you read it, we're sure you'll love it!
Guardian Issue #37 $6.00 per copy
Reading Room

Adam and Gillian's Sensual Whips and Toys
40 Grant Avenue Copiague NY 11726
Publishers of the SandMUtopian Guardian Magazine 1995-2000
siradam@ix.netcom.com (631) 842-1711