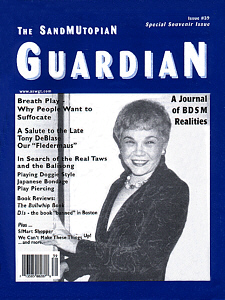 BREATH PLAY by Mitch Kessler
Why People Want to Suffocate - The differences between consensual BDSM play and torture, cruelty or abuse. How to do it safely and sanely.

A SALUTE TO THE LATE TONY DEBLASE by Andrew V. Charles, his life partner and former co-publisher of "The Guardian, Mr. Drummer and DungeonMaster" magazines.

JAPANESE STYLE BONDAGE by Cree
A long-time practitioner of the art shows how to do the basics.
IN SEARCH OF THE REAL TAWES (or TAWS)
by Mitch The history of its use and the secrets of its manufacture.
WOOF! THE HUMAN CANINE by Michael Masterson
Playing "doggie style." Real stories about real situations!
Note: These are just a few of the articles available in this issue of The Guardian. To really appreciate this magazine you have to actually own one. Once you read it, we're sure you'll love it!
Guardian Issue #39 $6.00 per copy
Reading Room

Adam and Gillian's Sensual Whips and Toys
40 Grant Avenue Copiague NY 11726
Publishers of the SandMUtopian Guardian Magazine 1995-2000