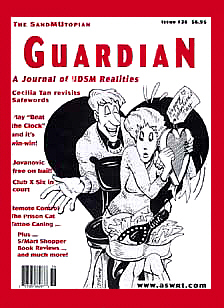 BUILDING A REMOTE VIBRATOR
by S. Benedick & The Captain His Captain can exercize control even from afar!
PLAYING "BEAT THE CLOCK" by KD Pierre
Everyone likes to play games. Try this one!

IN SEARCH OF THE PRISON CAT by Mitch Kessler. From photos and drawings, the Master Whipmaker (aka Adam) creates a modern version of the cats used in US and British prisons long ago.
TATTOO CANING by Loup Garou. An unusual way to use a variety of canes for a variety of sensations.

CENTERFOLD: A HIDDEN TOY CHEST
by Mark N. Another example of "hide in plain sight."
WHEN NOT TO USE A SAFEWORD by Cecilia Tan. Yes, there are certain times, circumstances and partnerships that can communicate without the classic Safeword in place.

Note: These are just a few of the articles available in this issue of The SandMUtopian Guardian. To really appreciate this magazine you have to actually own one. Once you read it, we're sure you'll love it!
Guardian Issue #36 $6.00
Reading Room

Adam and Gillian's Sensual Whips and Toys
40 Grant Avenue Copiague NY 11726
Publishers of the SandMUtopian Guardian Magazine since 1995