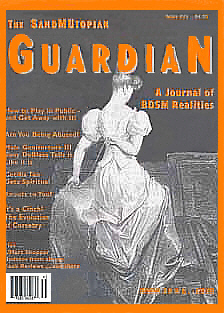 WAIST TRAINING & CORSETRY by Lily Fine

CORSETRY, ANOTHER LOOK by Gerrie Blum
Still of wide interest to both men and women, corsets come in all sizes, materials and purposes.
MALE GENITORTURE, PART III Anatomy
by Tony DeBlase. Saving the clinical for last, genitorture guru, the late Mr. DeBlase gives you an overview and an inside look at why and how genitorture works on the male body.

SEX MAGICK by Katrina.
SPIRITUALITY and BDSM by Cecilia Tan
Two distinct spiritual views of BDSM and a New Age approach to sex from people who live it ... and write too.


PUBLIC PLAY- HOW TO GET AWAY WITH IT
by Carolyn Keelen. Taken from personal adventures, she takes you to malls, parks, etc. and shows you some tricks to camouflage, or have your activities misconstrued by others.
SandMUtopian Guardian Issue #35 - $6.00