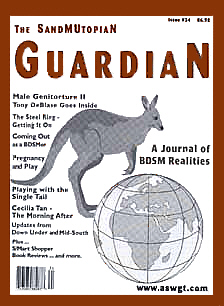 MALE GENITORTURE II by Tony DeBlase. Continued from Issue #33, the guru of male genitorture continues his task of guiding you thru the various phases of his favorite pastime.

BREAST PLAY WITH A SINGLE TAIL by Dr. Mike. Considered to be "advanced" play technique, the single tail takes practice and accuracy ... and the proper implement too.
CANING PLATFORM by Eric C.
An Aussie couple demonstrate a technique using a table, cushions and some bungee cords. Illustrated.

THE MALE GENITAL PRESS by Sexy Sadist
This clever toy-ture device will soon be available thru Adam and Gillian's.

MORNING AFTER SYNDROME by Cecilia Tan. Was the night as good in the morning? How to play without regret.

Note: These are just a few of the articles available in this issue of the SandMUtopian Guardian. To really appreciate this magazine you have to actually own one. Once you read it, we're sure you'll love it!
SandMUtopian Guardian Issue #34 $6.00
Reading Room

Adam and Gillian's Sensual Whips and Toys
40 Grant Avenue Copiague NY 11726
Publishers of the SandMUtopian Guardian Magazine 1995 - 2000