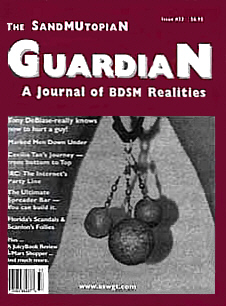 MALE GENITORTURE, PART I by Tony DeBlase. The foremost practitioner of the art revisits the topic. It is the first of a three-part article that continues in #34 and #35. Part I covers some of the basics.
HOW'S YOUR IRC IQ? ONLINE CHAT by Cherlyn. Where to find and how to chat with other BDSM people online, Glossary-Directory.

SLAVERY IN THE SCENE by Mme. Kitt
A Canadian dominia tells it like it is for black men and women in BDSM environments.

POPPERS: How to Tie One On by Mitch Kessler
With a single tail whip, replacing the poppers is part of the fun. Illustrations show you how.

PLAYING WITH CHOPSTICKS by Kenneth. Male genitorture using readily available items. Illustrated, of course.

Note: These are just a few of the articles available in this issue of the SandMUtopian Guardian. To really appreciate this magazine you have to actually own one. Once you read it, we're sure you'll love it!
SandMUtopian Guardian Issue #33 $6.00
Reading Room

Adam and Gillian's Sensual Whips and Toys
40 Grant Avenue Copiague NY 11726
Publishers of the SandMUtopian Guardian Magazine 1995 - 2000