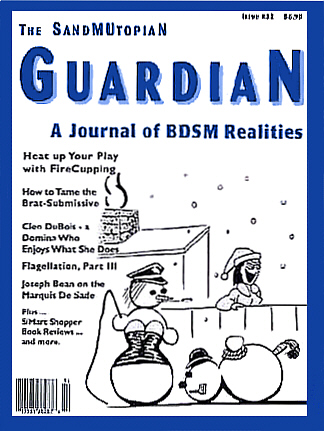 CENTERFOLD: SPREADER BARS
by Mitch Kessler Simple constructions for the Do-It-Yourselfer. (Contd in #33)
FIRECUPPING FOR PLEASURE
by Dr. Lewis

ASIAN FIRECUPPING by Dante Greylocke

A BDSM BIBLIOGRAPHY, PART I
by Michael Marks

JOYS OF DOMINATION by Cleo Dubois The observations and instruction of the Director of the Academy.

THE BRAT SUBMISSIVE by Nikki
How to Tame Yours-the What and Why of behavior.

A STRICT AND GRACIOUS QUEEN
by Sybil Holiday A noted Professional Dominatrix shares her insights and methods.

Note: These are just a few of the articles available in this issue of the SandMUtopian Guardian. To really appreciate this magazine you have to actually own one. Once you read it, we're sure you'll love it!
SandMUtopian Guardian Issue #32 $6.00
Reading Room

Adam and Gillian's Sensual Whips and Toys
40 Grant Avenue Copiague NY 11726
Publishers of the SandMUtopian Guardian Magazine since 1995