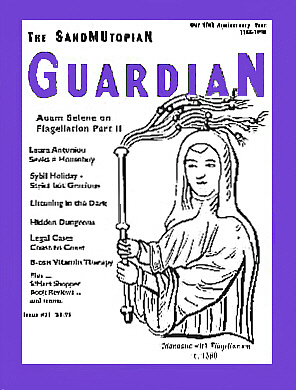 FLOGGING -- 2ND IN THE SERIES by Mitch Kessler
A whip-master shares the secrets of the art: where to hit, where not to hit, and more.

NO MUSIC BUT THE SOUND OF MY VOICE by TruDeviant
How the voice can affect the scene.

NIACIN - A B-DSM VITAMIN
by Steve Vakesh
Creating sensation with dosages of a commonly used vitamin supplement.


THE HIDE-A-DUNGEON
by S. Benedick . How to hide your "fun-iture" from casual visitors.

SOUNDPROOFING YOUR DUNGEON
by Nakita Tricks for improved insulating properties in your house or apartment.

A STRICT AND GRACIOUS QUEEN by Sybil Holiday
A noted Professional Dominatrix shares her insights and methods.

Note: These are just a few of the articles available in this issue of the SandMUtopian Guardian. To really appreciate this magazine you have to actually own one. Once you read it, we're sure you'll love it!
SandMUtopian Guardian Issue #31 $6.00
Reading Room

Adam and Gillian's Sensual Whips and Toys
40 Grant Avenue Copiague NY 11726
Publishers of the SandMUtopian Guardian Magazine 1995 - 2000