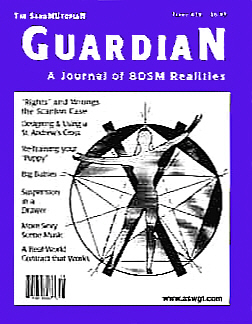 THE ST.ANDREW'S CROSS by Mitch Kessler. History, purpose and a gallery of examples.
HIT WHERE YOU AIM WITH A SINGLE-LASH by Mr. Robert An Aussie expert gives hints and tips on the proper use of a signal or bull whip.(Also see #29.)
LISTENING IN THE DARK II by Trudeviant
More electronic scene music selections with a play list.
CARTER STEVENS vs HEARST CORP AND SCANLON vs GMSMA by Mitch Kessler
A cautionary tale of two copyright infringement cases: one brought by a major corporation against one of our scene publishers; the other brought by a member of the community against a scene organization.
CONTRACT FOR A REAL-LIFE SERVANT by Stephen. A real world contract that works ... and has been renewed.
Note: These are just a few of the articles available in this issue of the SandMUtopian Guardian. To really appreciate this magazine you have to actually own one. Once you read it, we're sure you'll love it!
SandMUtopian Guardian Issue #28 $6.00
Reading Room

Adam and Gillian's Sensual Whips and Toys
40 Grant Avenue Copiague NY 11726
Publishers of the SandMUtopian Guardian Magazine since 1995