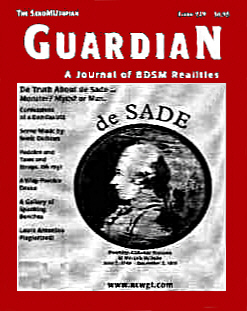 DE TRUTH ABOUT DE SADE by Mitch Kessler. Separating the man from his fiction.
LISTENING IN THE DARK by Tru Deviant
Two unusual musicians and a playlist.
MANACLES IN HISTORY by T.L. Gross
The uses and abuses of restraints & photos from the author's extensive collection.
WHIP PRACTICE DEVICE by Mr. Robert
Cont'd from #28, the author's device for improving accuracy with a single lash.
CONFESSIONS OF A DOMINA by Cassandra Payne.
A noted Canadian Mistress tells (almost) all.
Note: These are just a few of the articles available in this issue of the SandMUtopian Guardian. To really appreciate this magazine you have to actually own one. Once you read it, we're sure you'll love it!
SandMUtopian Guardian Issue #29 $6.00
Reading Room

Adam and Gillian's Sensual Whips and Toys
40 Grant Avenue Copiague NY 11726
Publishers of the SandMUtopian Guardian Magazine since 1995