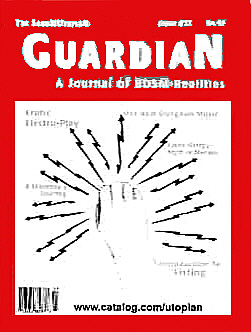 A GUIDE TO VAGINAL FISTING by Carol Queen & Robert Morgan. Practical Step-by-Step information. Illustrated.
A SHOCKING EXPERIENCE by Des De Moor
How to use electricity sensually and safely.
EXCERPTS FROM A SLAVE BOY'S DIARY
by Lance Brittain. The odyssey of a boy in search of the perfect daddy.
PART III OF ENEMATION by Mitch Kessler
LATEX ALLERGIES by Robert Morgan. With increased use of condoms, dental dams and rubber gloves, people can build a "contact dermatitis" allergic reaction to latex.
S/MART SHOPPER: RESTRAINT BELT, HANDCUFF KEYS, MUSCLE STIMULATORS, BEAR-CLAW SCRATCHERS -- A regular feature of The Guardian in each issue.
Note: These are just a few of the articles available in this issue of the SandMUtopian Guardian. To really appreciate this magazine you have to actually own one. Once you read it, we're sure you'll love it!
SandMUtopian Guardian Issue #27 $6.00
Reading Room

Adam and Gillian's Sensual Whips and Toys
40 Grant Avenue Copiague NY 11726
Publishers of the SandMUtopian Guardian Magazine since 1995