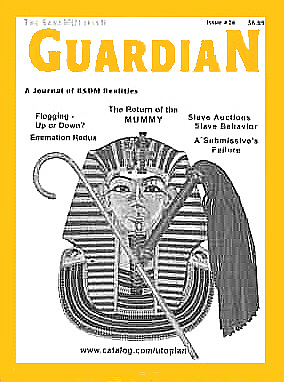 MUMMIFICATION by Alex & Angel. General Principles; A Kit to Gather; Techniques.

WRAPPERS by Sheela Ardrian
Alternative Mummifying Materials and How to Use Them.

ENEMATION, PART II by Mitch Kessler. - The Bardex: What It Is and How to Use It. (Continued from #25)

A COUPLE'S ENEMA GAMES by Pierre. Once you have gotten "into" enemation, games can be very "satisfying."

A PROFESSIONAL VIEW of ENEMATION by Mistress KK. If you are new to the experience, having a professional do the introductions can be preferable to two novices blundering about.

WRIST COLLAR by Kim Boo York
How to Make an Unobtrusive Symbol of Submission for Public Wear.

HOSTING A PARTY by Carolyn & Steve Vakesh
How-to's and Hints from Two Experienced Party-Givers and -Goers.

VIRGIN DESCENDS INTO HELLFIRE by Michelle Wilson
A Novice's First Visit to a NYC Public BDSM Club
Note: These are just a few of the articles available in this issue of the SandMUtopian Guardian. To really appreciate this magazine you have to actually own one. Once you read it, we're sure you'll love it!
SandMUtopian Guardian Issue #26 $6.00
Reading Room

Adam and Gillian's Sensual Whips and Toys
40 Grant Avenue Copiague NY 11726
Publishers of the SandMUtopian Guardian Magazine 1995 - 2000