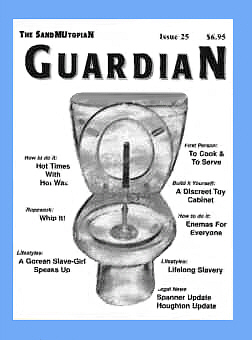 A GENTLE INTRODUCTION TO ENEMATION
by Mitch Kessler
Equipment, Procedures; How People Feel About this Practice. (Continued in Issue #26 & 27.)

KRAFTY KABINET by Sir Michael
A Full Wall Closet for All Your Toys and Able to Hide in Plain Sight.

WAX WORK by Sheila Ardrian
Techniques, Kinds of Wax, Safety Aspects.

SOMEWHERE A PLACE FOR US by Cecilia Tan. Finding a Space for BDSM Events.

S/MART SHOPPER — Handi-Cut Shears, An "On the Fly" Hook

GOREAN SLAVE GIRL by Kajira Hill: Some of the customs and manners of the Gorean Slave/Master relationship.

LIFESTYLE SLAVERY by Slave D. Is it different when the slave is a man? Read on ...

Note: These are just a few of the articles available in this issue of the SandMUtopian Guardian. To really appreciate this magazine you have to actually own one. Once you read it, we're sure you'll love it!
SandMUtopian Guardian Issue #25 $6.00
Reading Room

Adam and Gillian's Sensual Whips and Toys
40 Grant Avenue Copiague NY 11726
Publishers of the SandMUtopian Guardian Magazine since 1995