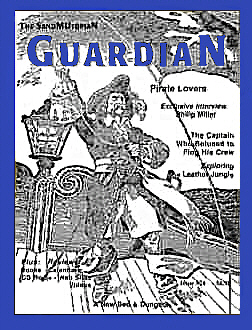 PIRATES' LOVERS by Mitch Kessler
The Tradition of the "Matelot" and the Special Relationships Aboard Pirate Ships

ROMANCE OF THE RUBBER BAND
by K.D. Pierre. A Grown-up Game for the Young at Heart- How to build it, how to play it.

SECRETS OF TRESS & HANDLE DESIGN
by Adam Selene What Kind of Tresses are Right for You? A Leading Professional Whipmaker Shares His Secrets.

INTERVIEW WITH PHILIP MILLER
by Michelle Wilson. The Late Community Activist and Co-Author of Screw the Roses, Send Me the Thorns

Note: These are just a few of the articles available in this issue of the SandMUtopian Guardian. To really appreciate this magazine you have to actually own one. Once you read it, we're sure you'll love it!
SandMUtopian Guardian Issue #24 $6.00
Reading Room

Adam and Gillian's Sensual Whips and Toys
40 Grant Avenue Copiague NY 11726
Publishers of the SandMUtopian Guardian Magazine since 1995