THE PUSHY BOTTOM by Tim Brough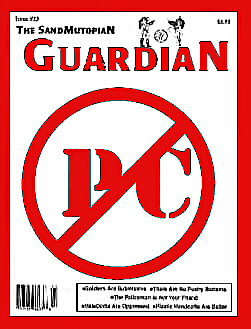 This and Other Myths Debunked by the (former) Editor of "Rubber Rebel" Magazine.

IS YOUR SLAVE YOUR DEPENDENT? by Carolyn & Steve Vakesh. Money, Tax & Inheritance Matters when the Partners are Master/Mistress & Slave and Are Not Married.

PERILS OF PUBLIC PLAY & THE POLICE
by: Kate Flanagan. A Personal Testimony of How the Police Treat Outdoor Scenes.


YOU HAVE THE RIGHT ... YOUR RIGHTS AND THE POLICE Information from the ACLU and Other Sources on Dealing with Police Encounters

INITIATIONS by J.T. Caterwaul
Memoirs of a Domina in the Realm of Submission

A SPANKING BENCH TO BUILD by Richard
Instructions, Diagrams & Materials List to Build the Bench of Your Dreams.

Note: These are just a few of the articles available in this issue of the SandMUtopian Guardian. To really appreciate this magazine you have to actually own one. Once you read it, we're sure you'll love it!
SandMUtopian Guardian Issue #23 $6.00
Reading Room

Adam and Gillian's Sensual Whips and Toys
40 Grant Avenue Copiague NY 11726
Publishers of the SandMUtopian Guardian Magazine since 1995