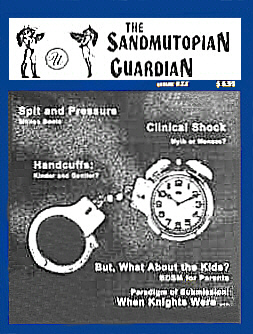 THE QUALITY OF MERCY by Mercy Van Vlack. Drawings of Men and Women with BDSM Themes

SAMPLE CONTRACT
A Slave Contract From "Metropolitan Slave" Magazine

FLOGGING IN THE 19TH CENTURY BRITISH ARMY
Excerpts from An Illustrated History of the Rod by Rev. Wm. Cooper.

KIDS IN THE HOUSE? by Michael Kraft
How Parents Manage an SM Lifestyle at Home and Away when the kids are young and at home.

FULL-TIME AND LONG-TERM by Cecilia Tan
A look at a 24/7 Relationship for today, by the folks that are living it.

FLEXIBLE TAUTNESS by Tim Brough
A Rhapsodic Look at Rubber by the (former) Editor of "Rubber Rebel" Magazine

Note: These are just a few of the articles available in this issue of the SandMUtopian Guardian. To really appreciate this magazine you have to actually own one. Once you read it, we're sure you'll love it!
SandMUtopian Guardian Issue #22 $6.00
Reading Room

Adam and Gillian's Sensual Whips and Toys
40 Grant Avenue Copiague NY 11726
Publishers of the SandMUtopian Guardian Magazine 1995 - 2000