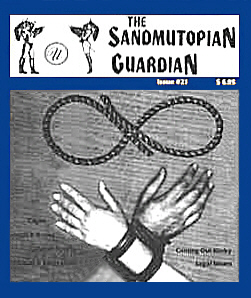 UPDATE—THE HOUGHTON CASE:
SM Couple Lose Custody of Children.

CYBERPERVS UNDER ATTACK
by The Ad-Viser Et Al. The Telecommunications Reform Act & its Communications Decency Provisions.

LITTLE SISTERS WINS INJUNCTION
Book Store in Canada Can Sell SM Books and Magazines — for now.

REFORMING THE BAWDY HOUSE ACT
by Robert Dante. Canada's Law Regarding Prostitution Affects SM People at Home & at Parties. Article by the publisher of "Boudoir Noir" magazine.

AUSTRALIAN CENSORSHIP LAWS
by Ian Ballentyne. How the Provinces of Australia Treat SM Books and Magazines.

Note: These are just a few of the articles available in this issue of The SandMUtopian Guardian. To really appreciate this magazine you have to actually own one. Once you read it, we're sure you'll love it!
SandMUtopian Guardian Issue #21 $6.00
Reading Room

Adam and Gillian's Sensual Whips and Toys
40 Grant Avenue Copiague NY 11726
Publishers of the SandMUtopian Guardian Magazine since 1995