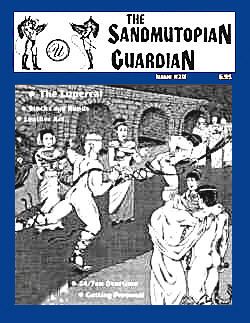 LEATHER ART GALLERY by Gerrie Blum
Andrew Creates Artwork in Leather. Illustrations.

MEN'S BODIES: A STUDY IN CONTRASTS
by Vince Gabrielly Centerfold Photo Essay of Men in Bondage.

THE FESTIVAL OF THE LUPERCALIA —
The Last Roman Holiday.
Why Flowers & Candy? You Could be Running Around Naked, with Whips Flying! All you have to do is move the holiday from the 14th to the 15th of February.

SUFFOCATION AND STRANGULATION
Excerpts from an Online Discussion on the Topics.

THE GLORIOUS ART OF FACE SITTING
by Slave W. Praise For and Thoughts on this Female Dominant Tradition.

Note: These are just a few of the articles available in this issue of the SandMUtopian Guardian. To really appreciate this magazine you have to actually own one. Once you read it, we're sure you'll love it!
SandMUtopian Guardian Issue #20 $6.00
Reading Room

Adam and Gillian's Sensual Whips and Toys
40 Grant Avenue Copiague NY 11726
Publishers of the SandMUtopian Guardian Magazine - 1995 - 2000