CANES AND CANING -- by Mitch Kessler.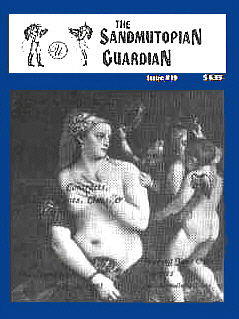 Everything you want to know about the customs, rituals and pleasures of caning. Also, choosing the right cane and the right material. [Read article.]
DISCREET DUNGEONS: TIE POINTS
by Conrad Hodson. How to Fill Your Life with Places to Attach Bondage. Illustrated.

ADVENTURES IN 9-POINT by The Ad-Viser.
How to Handle the Personal Ads, Including Location, Gimmicks.

BED AND DUNGEON GETAWAYS by: Gerrie Blum. Two Examples of Overnight Accommodations with that Extra Something.

THE PAYNE, THE PAIN! by Lady Gillian
A Trip to an SM Haircutting Salon in the New York area.

SPANKING FOR EVERYONE An online article about Spanking positions, etc. [Read article]

VISITING A PROFESSIONAL SUBMISSIVE by Stephen. Why? How? and What Should You Expect?

CENTERFOLD -- HOW TO MAKE A SPANKING BENCH Complete illustrated instructions for constructing your very own.
Note: These are just a few of the articles available in this issue of the SandMUtopian Guardian. To really appreciate this magazine you have to actually own one. Once you read it, we're sure you'll love it!
SandMUtopian Guardian Issue #19 $6.00
Reading Room

Adam and Gillian's Sensual Whips and Toys
40 Grant Avenue Copiague NY 11726
Publishers of the SandMUtopian Guardian Magazine 1995-2000