Under the leather is an unbreakable plastic layer extending all the way to The Paddle's edge and laminated for long life. No steel rod to wear through -- or fly across the room!
Available in Black, Russet or Burgundy. We also have extra rough Pebble Grain leathers -- mix textures for extra effect. Add bunny fur for a gentler side.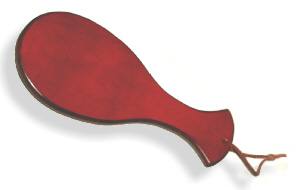 P016
A slightly smaller and lighter version has been made as a result of a customer request ... and criticism. It has the same distinctive "fishtail" shape but is easier to handle. Try it -- you'll like it.
Also see our Hairbrush Paddles if you want something smaller still.

A customer told us recently:

"THE Paddle - Despite the fairly hefty size of the implement it fits well in my hand and is definitely suitable for OTK use. It is very sturdily constructed and, I suspect, very durable: on first inspection you might believe it to be made of wood. The stiffened leather construction provides the head of the paddle a mild flex with the handle providing a little more 'give'. Overall the implement is heavier than I had expected but works well and looks great.DM"