Sole Bend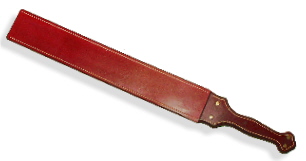 Made of 1/4" thick boot sole leather, set in your choice of shaped handle, this wide, stiff paddler is designed to make an impression and built to last.
See your choices of handle shapes here. P032
The generously thick handle with rounded edges provides a comfortable grip for long powerful sessions without hand cramps. The blade's rounded edges reduce marking and skin damage. It is also available with square edges if you want to make marks and draw blood.