The SchoolMistress and The Monitor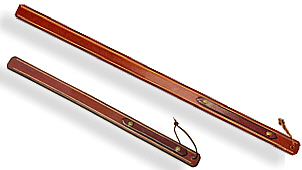 The narrow SchoolMistress strap is based on fond (?) memories of corporal punishment in the Canadian school system a generation ago. Made of fine bridle leather, it has the weight and the flexibility to gratify sensual adult tastes. It is also available in a stiffer "sole bend" leather for greater accuracy. The design has a somewhat Victorian feel, though the effect is completely contemporary.
Narrow and able to get into tight spaces, if used with imagination, The Monitor is something more than an "insulting, teasing little strap." It will put a glow in secret places that Prince Laurent of Gor never knew a strap could reach.

Or, in rubber, for really "something different," see the Mistress' bad boy, our Slick Slim.
A customer told us:
"We received the ordered Monitor's Strap today. Very well made. Ideally purposed. Stiffness and all. Thank you for an excellent product. G"

And last year another said:
"... I just wanted to let you know that I received the items in time for Christmas and am very pleased ... . Seeing the pout on (her) face upon finding (it) in her stocking was worth the price alone: she was definitely on Santa's naughty list. The Schoolmistress strap has taken its place as our new favourite implement. D"