Old Time Navy Cats
In the days of Wooden Ships and Iron Men, discipline was harsh -- maintained by the noose and the Cat. For all practical purposes, this is that Cat. Three feet long with tresses of 1/4" diameter blond manila rope, with authentic sailor's knots to form the knobs of the unstiffened and unwrapped handle. Although aboard 19th century British ships, the tress ends were merely cut off and allowed to fray, ours have been securely bound with "whippings" because, while the original item was only used for a dozen or so strokes and then tossed overboard -- ours is built to last.
K056
A customer wrote to say:
"I just received my Navy cat that I ordered! DAMN what a handsome implement. It is all you said and more. Thanks so much for all the helpful information you provided. J"
In a somewhat more elaborate "Hollywood" version, we have stiffened the handle for accuracy and ease of use. To protect the hand from rope splinters, the handle is covered in red leather in accordance with the mid-19th century literary tradition.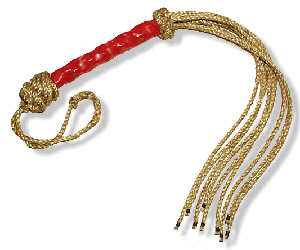 This refinement was rarely, if ever, actually used in the British fleet. We make this in both 36" (pictured) and 48" lengths (not shown).

These cats are extremely powerful instruments. They will bruise, crush, cut and abrade skin, all at the same time. A dozen strokes "well laid on" will make a "red shirt" ... two dozen probably constitutes a breach of the peace -- or of the relationship!
K057

Another said:
"It's been a while since we got the toy. (Hard-Handle Navy Cat) My girl is enjoying it alot, (and me too); she is developing the technique......I am happily submitting!MJ"
We have been looking for this material for quite some time ... real Hemp fiber rope. As another expression of the Old Navy Cat modernized for the 21st Century, this fiber is softer and more moderate as cat material. No "splinters" no scratching -- it's a very different feel.
Available in natural grayish color or can be dyed russet. Can also be made with a covered handle.
K059

Another customer said:
"I just wanted to say thank you for your wonderful products. I'm completely delighted with both the Cat & the Strap... they definitely look and feel very old-world; very classical. Which I adore. The Hemp Cat, especially, is a ... unique addition to my collection, in the way of filling its own distinct sensation-niche. LF"