Holey Paddles!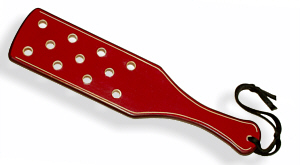 The feature here is/are perforations -- to accelerate the action. Construction is the same as in the Square Paddle. Great for OTK (that's "over the knee," for the uninitiated) or when space is limited. It has an ergonomic handle -- good for the large or wide hand. Choice of color.
P061


The Holey Cow! a larger and heavier version, --

has evolved over the years into one of Adam's best. It combines the sting of waxed and polished leather with a good degree of 'thud.' P063

More than 1/2" thick, the laminated blade flexes on impact, reducing the perils of "over driving" a paddle of this size. The handle, however, is rigid for extraordinary power and control. In our opinion, the design shows to its best advantage in the "British Tan" color shown here, but Dark Brown, Burgundy, Saddle (light) Tan, and Black are available at no extra cost.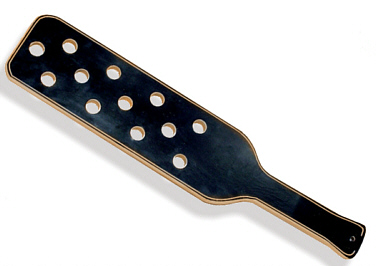 Frat Bat
The "Granddaddy" of the paddles in this genre.
This paddle was first made "on commission" of a customer. He wanted something that reminded him of his old fraternity hazing days, but did not want the extreme effects of wood. Gillian's Paddle wasn't large enough! P040
So, we made the Frat Bat -- two feet long and nearly 3/4 inch thick. We have now added it to our collection and you have your choice of leather color. Available with or without the holes you see here.