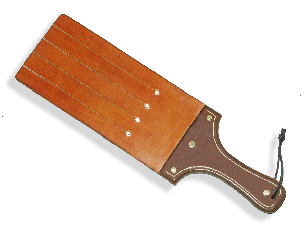 Five-Fingers
Our customer wanted a taws broader than usual, more paddle-like than like a strap.
He sent a sketch and from it came a new item: the Five-Finger Taws, with four cuts instead of the more usual one.
*Now redesigned with a longer handle for better control and darker in color ... both in handle and blades. Your choice of our regular leather or the new premium full-grain limber "skirting" ... heavier and more limber.
Is bigger better? You decide.