Bullwinkle ...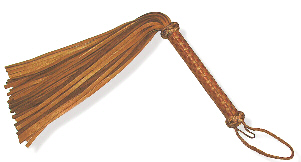 the last of the Moose!
Moosehide used to be a costly but readily available leather. About two years ago it became harder to obtain. We have a small quantity of the Tobacco color on hand, but we don't know if we can get more later on.
It is rich and thumpy with a slight hint of sting. The leather Basket-Weave handle is longer than usual and counter-weighted for ideal balance. If Adam were to be stranded on an island with only one implement of affection, a Bullwinkle, soft and supple, would be it!
This is what one of our customers told us after receiving their Bullwinkle:
" ... i am lucky enough to have a Master who has several impliments made by you, but must say this new flogger (Bullwinkle) is by far my favorite in all of O/our collection.
" It was with your very soft flogger, Bambi's Revenge, that i first came to understand my love of being flogged. When Master shared with me the details of the new flogger ... i was very excited. Much to my delight, the flogger arrived ... and W/we were able to put it to good use this evening.
"The sensations derived from the touch of this amazing flogger were like nothing i have felt before. Each time the falls touched my skin, it was as if every nerve ending was exposed and caressed by the soft leather.
"There really are not enough words to thank you for this beautiful flogger. W/we will continue to be repeat customers and i very much hope Master will, some day, bring me to visit your shop.M"
The Moosetta
It is a slightly smaller version of the Bullwinkle. It has all the same features, but sized for the less "moosey" hand. The first one was made for Gillian when she couldn't wield the big one. It goes with her to that mythical desert island.
These customers told us:
" I have a picture of the Moosetta and revenge of Bambi in my (profile) pictures. We absolutely love both of those floggers. Amazing. M"
"I'm enjoying my Moosetta flogger .. Wonderful craftsmanship ..Thanks! H"

"Just wanted to drop a quick line to tell you how much we are enjoying the moose hide flogger (Moosetta) you guys made for us. It has quickly become our first choice as instrument of torture of the day. My wife loves the thuddy, little sting Moosie. It is also beautifully made, fits in my hand like a glove, and smells good too! Satifisfied Dom & Sub in Upstate (NY)."