Adam's Grabbers.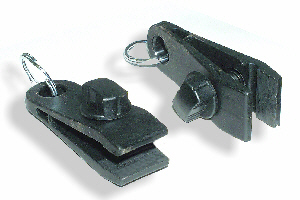 Wide and flat, the contact points on the new version of these toys (1"x 1/2") are well-suited to nipples, labia, foreskins, or the scrotal ridge.

Now with a fast-acting screw, they tighten and loosen precisely without unnecessary pulling. Once applied, a small twist of the knob has a profound effect.
In Black only, they are now being offered as an alternative on the Labia Lifter ... making it truly a pansexual item. Available with or without "teeth."