Sensual Slapsticks
Thereís no clowning around with this Slapstick. Itís got all the power you can ask for, and makes a sound to match. Open at one end with two layers of stiff leather bonded and riveted to an unbreakable core, it has a comfortable grip and good control as well. Your choice of handle style.
Choose Burgundy, Russet or Black in limber harness leather or stiff boot sole leather -- or half & half.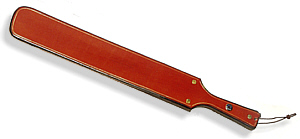 New addition to our Slapstick family -- first designed on special order for a loyal customer, this is a midrange version, with rounded corners.

Same choices of leathers, colors and handles apply.