Lewis & Clark Commemorative Cat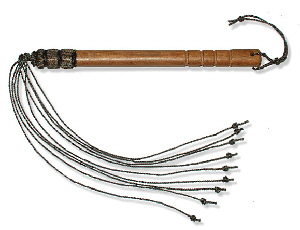 In 1804, Lewis and Clark set out to explore the West. Their journals indicate that in order to preserve discipline during the trek, they took with them a "flogger" similar to this.
To mark the 200th Anniversary of that adventure in 2004 we offered this unusual Cat o' Nine described in their journals. We made the first one for a historical society. This would make a great gift for someone who is a history buff -- or who has a full toy bag.
Can be had with knots or with whipped ends.