Click on photo for larger view
Nasty Cats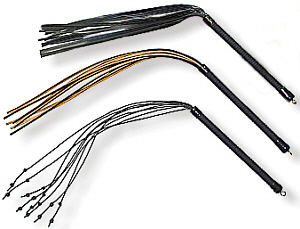 These are just three examples of how we turn Bambi's Skinni Friend into an "enemy."
The first is with flat rubber tresses, the second with harness leather, and the third with knotted tarred codline. So, "ya pays yer money and ya takes yer choice."

Choose color(s) for wrapped handle. Standard is all Black. Tress colors are as shown.
K100
Brass Ones
These are slightly different versions, but just as nasty in their own ways. In a brass handle, with ball or ring topper, similar to the Brass Whipsicle.
Your choice of polyethylene Birch rods, braided leather or knotted codline.
K101
Bambiís Skinni Friend
Gentle enough for novices, this long, slender K025 deerhide whip is not to be underestimated. It can deliver sharp stingers too. It is elegant, accurate and will not break skin or leave marks.

Your choice of colors in a plain wrapped handle with plastic ends. Or, upgrade to our Signature handle and decorative Turkís head knots.
NastyCats -

Severe
26" long

$85.

K100
Brass Ones -
Severe
24" long

$75. - $95

K101
Skinni Friend -
Moderate
26" long

$85.

K025

Cats II