The Whipsicles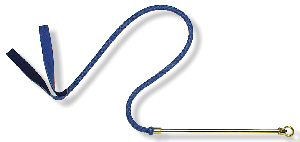 Brass Whipsicle
Decidedly elegant! Fits neatly into pocket or purse. A single round braid is set in a brass tube handle with a ring- or ball-top. This single tail mini-whip will reach out and touch someone lightly with exceptional control and accuracy. In action it is the BDSM equivalent of a "Party Blow Tickler." It gets attention but does no harm.
The soft, supple Deerhide is not tapered, but it is fully braided over a ball chain core. The "leaf" end is broad and slappy, excellent for breast stimulation. "Flapper" ends are faster and more accurate to reach narrow places with somewhat more authority. "Knot and tassels" end delivers mild sting or a little thump, at will.
Click here to View Tip Designs
Wood Whipsicle
Somewhat longer, thicker and more serious than the Brass Whipsicle, the Wood Whipsicle looks and "flies" very much like a small singletail ... except that it is not tapered, doesn't make loud noises ... and doesn't hurt ... "too much" -- or leave marks. This whip-on-a-stick was developed as a less expensive, less damaging alternative to tapered signal whips and bullwhips.

The six-plait, thong in Black Cowhide, Brown Moosehide, or Deerskin in colors is over two feet long and braided over a length of fine ball-chain. It ends in your choice of a "knot and tassel" configuration, a two-part "flapper," or a broad "leaf" tip -- but no nylon popper. The handle in our "furniture finish" is standard.


Click here to View Tip Designs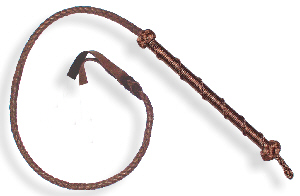 French Whipsicle
For those who want the look, feel and precision of a braided singletail, but not the sound and the fury ... or the welts and recriminations -- our French Whipsicle mounts Moosehide or Cowhide with a ball-chain core in our 12" Signature handle with Turks' head knots.

Order the tip design of your choice to deliver the kind of sensation you desire. Shown with flapper ends.

This is what our happy purchasers have had to say:
"The French Whipsicle arrived this morning. And must say, it's beautiful! I'd say it's the #1 jewel in your crown! Thanks so much!!!!!E"
"I bought my French Whipsicle many years ago. It had the same design as today, but was only 3' long. 4' might be a bit too long. You can ask it to be made exact length as you wish, Adam will do it. It is a wonderful toy-tool. I used it a lot and will be using more. Mine has a leaf tip...
The best part is that this whip can be a teaser if you don't apply force, but can be a very serious punisher if you wish. So, you can make the pain level unpredictable for the "victim" which makes it such fun. It works perfect as a warm-up if you swing gently, 20-30 lashes. But then as the ass gets red it invites harder punishment. It sounds wonderful when it slices the air and the lash sounds also serious and real ... And the most important: if you go through a good patient warm-up and then gradually increase the intensity, you can bring your victim to tears and a complete break-down and there will be no marks next day. Not a sign. Highly recommending this one. A grateful return customer. P"
"Just letting you know... I received my French Whipsicle ... I absolutely love it. It's everything I expected it to be.... I will be playing my ass off with my #1 sub (a gorgeous slender sexy young German girl). She is very anxious to feel the sting of a Moosehide flapper delivered to her back with primarily the thrust of a short
single-tail (but without the sharp bite of a standard signal whip cracker. S"