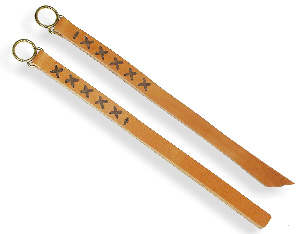 The Hip Strap
What started as something novel to do with a really interesting piece of hardware and some strap leather, has evolved into a really satisfactory punishment tool.
The Hip Strap is a piece of 13 oz. (.20 in/5mm ) bridle leather doubled and laced to make a what is, in effect an 18" long strap almost 1/2 inch thick. Its effect is surprisingly intense. This is not Prince Laurant's, "insulting little strap." It will make welts and bruises if well laid on.
New refinements include extending the section of deerhide cross-lacing, rounding the corners of the "square cut" version and offering an angled, sharp "quirt tip" as an option. To raise the level of craftsmanship, the leather is now "skived" (thinned) where it passes over the bar of the brass ring-and-slot hardware, to fold flatter.
The defaults of the Hip Strap are 18" and square cut … but you can order it with blunt or angled ends; 16", 18" or 20" long. Available colors are Saddle Tan and Black.
This just in from the UK: "The Hip Strap has a quirky, interesting look with the brass loop and the leather band used to hold it together. It's relatively thick and the double layered design gives an interesting dual impact effect if you use it lightly. It's definitely short enough to use OTK and easy to handle while still being an effective, if loud, implement. We are all pleased with the effects and it has seen, and will continue to see, regular use.D"