Hame Balls
Unique appearance and exceptionally good grip and balance. The round ball handle is an actual piece of horse harness hardware. Choose solid brass or steel handle with cowhide leather, suede, bullhide, moose, deer or rubber tresses in Black or colors.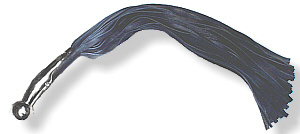 This is what a happy customer told us recently:
" ... I bought a flogger from you about a year ago. (A Hame Ball flogger in Chrome with blue suede.)
Not only is it my favorite but its been complimented as a well balanced flogger. And recommended you to the admirers. M "
This is what another of our customers said:
" I just love the look and feel of the Hame Ball Flogger. I am looking to get a set of matching ones with suede flails that are on the shorter end. Is this someting that you could make or are these floggers not able to be custom made? If they are I would love to hear back from you regarding what options I have. F "

We made exactly what she wanted and she and her floggers are very happy together.