DeLuxe Cane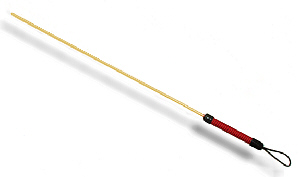 This is really something special!
Selected real kooboo rattan cane is steamed, stretched and then completely submerged in a linseed oil compound, dried and varnished to achieve its look and performance. We think it's worth every minute!
This method makes The DeLuxe Cane denser, more flexible and less likely to break than a basic rattan punishment cane. And the feel? -- It has to be experienced to be appreciated! The DeLuxe Cane raises the rattan cane to a new level of elegance and performance.
Each DeLuxe Cane is shipped with a unique protective carrying and storage scabbard, at no additional cost.
Only our Modern Handle is offered with this cane. There is more than meets the eye to this handle design. An internal double-helix of nylon paracord strengthens and stabilizes the cane's performance while providing a comfortable and slip-free grip. Available in a wide choice of colors and combos.



Order yours today. It may take some time to receive it because of demand ... but well worth the wait. Makes an unusual and elegant gift.
This is what recent purchasers had to say:
"I ... purchased your Deluxe Cane ... (and) am extremely pleased ... The Cane looks great and is quite easy to control. My partner, who has a good deal more experience than I in this regard was astonished ... As she has quite a high tolerance, I gave her quite a bit more than a few strokes.F"


"The combination of the Cane and sheath has a striking look. The loop on the sheath even lets you carry it on your belt, sword style. The Cane itself has a rounded tip, smooth finish and is wonderfully flexible. Equally importantly it is very effective and, I suspect, will be seeing a lot of use.D"
"I have received the DeLuxe Cane yesterday. It looks and moves super great. I will practice few times and then ..... this will be a long weekend for my subby :) I will be back soon to order other gadgets. Cheers, K"


"I got to try both canes out on Saturday just as planned, and I'm overjoyed with them. Beautifully flexible and beautifully finished. I also pass on appreciation from a very sore but endorphin-happy friend. Thanks! AA "


"I just wanted to let you know how pleased I was with the DeLuxe Cane I recently purchased. I was initially hesitant about spending that kind of money on a toy, but the description on your site had me so intrigued I couldn't resist. I am so glad I purchased it, it was definitely worth it. The quality is wonderful and I was very impressed with how quickly it was delivered. ... I have posted favorably about the cane on my blog... a "