The aesthetics of this design were inspired by an illustration by the artist Sardax (www.sardax.com). One of our clients wanted one just like it, but for the sake of suppleness and durability, built of the tarred cod line we use for the Viper and St. Christopher. This called for some compromises between fantasy, art, and practicality. Trusting the accuracy of the artist's eye, the original item was probably a recycled single-tail leather whip -- unbraided and rebraided -- with knots along its length. We chose a hard handle for greater control and decided to exaggerate the taper and regularize the spacing of the knots. At 36" overall it's very controllable.
W060
There are two ways of using the heavier Colts; both are enormously punishing. If the punisher stands directly behind the punishee and "rolls out" the Colt as if it were a single-tail whip, it will not make an audible crack, but the tapered thong will concentrate the whole force of the blow at the tip -- which will make deep single bruises and may break skin. If the punisher stands alongside the punishee, striking across the back or butt with the first three or four knots, great pain and livid red marks are to be expected in addition to the bruising.
There is almost no way to use this implement gently or teasingly. The difference in size has as much to do with the hand of the one using it, as it does with the severity. Bigger is bigger. So the Short version has been extended to 42" and the Large one is now a full 48" overall, tip-to-tip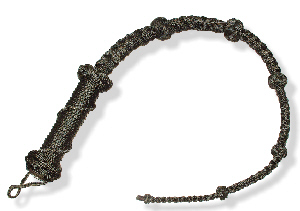 We recently decided to design a heavier version of the Short Colt and added our Signature handle for greater control in use. It is thicker in all sections and is for those who play hard!
W061
Historical notes for those who care about such things:
This design draws inspiration from two 19th Century naval instruments of punishment. In the British Navy, formal punishment was always administered with the nine-tail Cat. However, sailors on duty who did not move quickly enough to suit their officers were encouraged to greater zeal and activity by "starting." "The merest sign of hesitation in carrying out an order was enough to merit several stripes with a petty officer's "colt" (whip)." http://www.navyandmarine.org/ondeck/1800navaldiscipline.htm
Our customer recently wrote to say:
"I just received the Codline Colt (large) whip that I ordered. As always, the workmanship is suburb and top of the line. I can't wait to try it out. BY"