The Carved Lash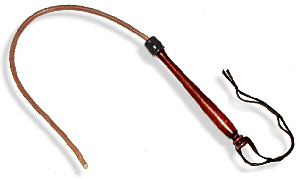 The handle of this mini-lash is turned wood. The 3/8" diameter lash's round shape is carved from the heaviest sole bend leather we can obtain.
This whip should not be underestimated!. It delivers powerful welting blows with accuracy and authority.
Customers told us recently:
"... I really appreciate the craftsmanship, especially for the whip, that the heavy leather gives a very solid impact even in this small width.Z"
"Just wanted to let you know that (the) Carved Lash is absolutely beautiful, craftsmanship is superior and sensations this product produced were exquisite. Thank you very much for great customer service.L"
"Your [My]Carved Lash arrived today, and I love it! Thank you so much for getting it to me on time.J"

"Thanks for the quick delivery, and the attention you gave it in making this perfect toy. Here in the Netherlands (of all places) it wouldn't be possible to find such a nicely crafted instrument, certainly not for that price. My girlfriend absolutely wanted a whip like this one and searched the internet over and over again. Finally she ended up at your site and she was very impressed. Then again, I didn't use it on her just yet so maybe she'll regret it later ;o) M&c"