Rattan Canes: Modern, SchoolMaster and Plain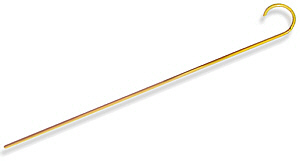 When England pushed Holland out of Southeast Asia, they acquired a cheap substitute for willow, holly and other woods used for bentwood furniture, walking sticks ... and punishing misbehaviour. Rattan excels in this last use as it is flexible, tough and less dense (therefore less dangerous) than wood. Unlike bamboo (which is stiff and brittle) when rattan breaks, it does not cause unanticipated skin damage.
Our SchoolMaster Cane
You can order thicknesses from @ 3/32" (3mm) to 3/8" (9mm). We recommend that 27" canes should not be thicker than 1/4" (5mm). More than that and they become "clubby" -- stiff and inflexible. Rattan canes 36" and over should be 5/16 to 3/8" thick. Less than that and they're too "whippy" -- floppy and hard to aim.
Severity: Although any cane, rattan included, can be used sensually, all rattan canes are ultimately severe. Longer canes hit harder than shorter ones. Thicker ones are more likely to leave bruises. Thinner ones, more likely to cut skin.
The mythical Dragon Canes are now here at Adam and Gillian's in the both the Modern style ... and the SchoolMaster version.
Our DeLuxe Canes raise the ordinary kooboo rattan cane to a new level of elegance and performance. Saturated with a linseed oil compound, and varnished, the DeLuxe Cane is somewhat denser and more flexible, than an ordinary kooboo rattan punishment cane. Each DeLuxe Cane is shipped with a protective carrying and storage scabbard, at no additional cost.
Rattan Canes do break! To find out How and Why, click here.
I recently commented to a customer in Japan who had purchased several canes for his partners as well as recommending others to our site: "So nice to know that our canes are so popular in Japan. ;-) !"

He replied: "It is just because we can't find such high quality canes in Japan -- or anywhere else.MH"
Schoolmaster

Modern Handle

Plain Cane
* Note: Dragon can be had in Modern, SchoolMaster or Plain styles here.

Modern Handle: a thick wrapping of nylon cord provides a relaxed and comfortable grip. Two diameters are used to create a "ribbed" appearance and a two tone color scheme.

Plain Cane: Keep a supply of prime canes on hand at a reasonable price and don't worry about breakage.

Schoolmaster: This is Our version of the crook-handled terror of the 19th Century classroom -- "Six of the Best Trousers Down."

Canes in dozens are "run of the mill," not individually selected and are not warranteed.

(At present,

Dragon

is not available in dozen quantities.)

Kooboo Canes by the Dozen

Schoolmaster

Plain Cane

27 - 32 "

$120./doz.

$90./doz.

33 - 38 "

$130./doz

$90./doz.

- More Canes -