Carcass Beater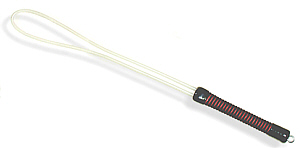 This is the "original" Carcass Beater from our first catalog, back in 1989. An oldie but goodie.
A loop of flexible 1/4" diameter polyethylene delivers a wide range of sensation. Gentle tapping produces sensual stinging; severe strokes raise welts and make C-shaped blue bruises.
Wrapped Nylon handle in your choice of colors, with black end caps. Choose 18" or 24" (shown) -- at the same price.