Don't let the low prices fool you. These are all first-class items seriously reduced in price so we can clear them out . Our descriptions are accurate.

These items are sold "as Is." They may not be returned for credit -- nor a cash refund.
There is our regular $5.00 per order handling fee, plus Priority Mail shipping.
To order, call (631) 842-1711, or send email with all info to siradam@ix.netcom.com.
Flaggelarium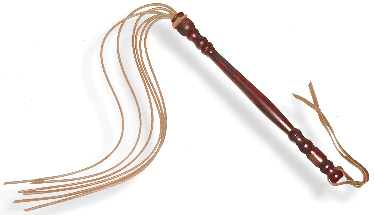 The only thing wrong with this lovely piece is that it doesn't have a good home. So, we are out to find it one. Is it yours? This cat is 36" overall and can evoke a lot of noises in the night if used properly. It regularly sell for $125.00, but this one can be yours for only $99.00.
Or see our other varieties of "feline friends" in our Cats section ... at regular prices.
Nylon Tit-Elater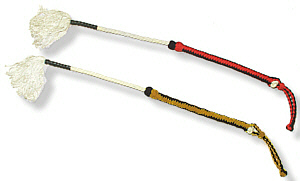 Another version of a "bust-duster" quirt ... this time in nylon, with a braided handle -- and "vegan-friendly" too. The nylon pom-poms are not as white or fluffy as they once were, but they're still All Fun! And, you can dust in high places, too. They were originally priced at $25.00, but either of these "immigrant orphans" can be yours for just $15.00 ... with any purchase from our regular catalog.
The Original Nipple Cuffs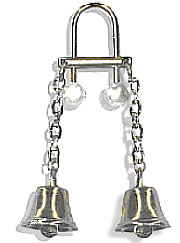 The end of an era. The folks who made them for us have gone out of business, so there won't be any more when these are gone.
The Original Nipple Cuffs, for women who want the visual effect without the actual piercing. The horizontal bar slides up the U-shaped cuff to press against the nipple, holding the cuff securely.
We are down to our last few pairs so please check with us to be sure what you want is still on hand. Your choice: $50.00 per pair.

Right now, we have:

Regular size - (3/8"dia.) fits most
2 pairs of Nickel Cuffs w/ Bells
1 pair of Gold Cuffs w/ Bells

Large - (1/2" dia.)
3 pairs of Gold Cuffs with connecting chain
(No rings or bells attached.)
The Basics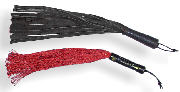 With the holidays upon us, we have some Basics made and ready to go. One is a Super Moose in Brown; the Regulars are one Red Leather and one Black leather. There is also one little Black Mini-Bull. Call us today and they will be in the mail tomorrow (except weekends). They are all priced at $25.00.
Or order the size, style and color that suits you best on our site at our second floggers page or on our Basics page -- at regular prices.