Canadian Prison Strap
In the Great White North, they had "Man-Size Whuppin' Gear." Starting around 1900, straps like this replaced "cats" in the Canadian Federal and Provincial Prisons and continued in use for more than 70 years.
The dimensions we use for this strap ( 3" wide x 30" long x 1/4" thick with 3/8" diameter holes ) were taken from a photograph of the original object in the hand of a Warder.
The size and thickness, based on our experience, are consistent with the goal of intimidating violent felons in adult prisons ... and with the descriptions of the damage done to their backsides with only five or ten strokes. This estimation best fits the descriptions of the Canadian Prison Strap provided by prisoners. Naturally, in consensual play, a Punisher might not use quite the full force which the Senior Warders of a more brutal age would have employed.
However ... it is difficult to ignore corpun.com's documentation. While prison officials may have minimized the size of the Canadian Prison Strap to mollify anti-corporal punishment reformers, it is equally likely that prisoners would have exaggerated the brutality of their punishment. (For a longer discussion of Prison Strap design, Click Here).
Whichever version you want to believe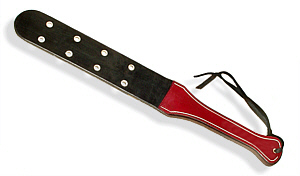 ... if you would prefer a downsized version of this strap, or one made with more limber leather ... or if you want colors other than the standard Burgundy handle and Russet Blade -- call or write -- we will be delighted to oblige.
Here's what one of our customers said recently:
"The Canadian Prison Strap that you made in your stiff, heaviest leather is a gorgeous implement. Truly intimidating to behold and with its narrow handle and holes it is very easy to use at full force (I receive the strap lying down making those over-the-shoulder deliveries very easy!). Lots and lots of burning sting. Wonderful. Amazingly, though, this is the least severe of the three straps you sent me. (although it is definitely more painful than a rattan cane!!!) P"
And, in case you are wondering about its authenticity:
"I work in a Jail in Canada. I discovered that we still have the Paddle Board ... an apparatus that the Prisoner was strapped to when he got the Strap. This was last used in our Jail in 1955. The Strap went missing around 10 years ago. ... I have been trying to get the few guards that had seen it to describe it to me so I could get a replica made up and "bring it back by popular demand"! No, just as a historical display. I then Googled it and found you guys ... true story. RD"
You can see "Paddle Boards" at www.corpun.com